Jorge Martin dominates, Pecco Bagnaia on the podium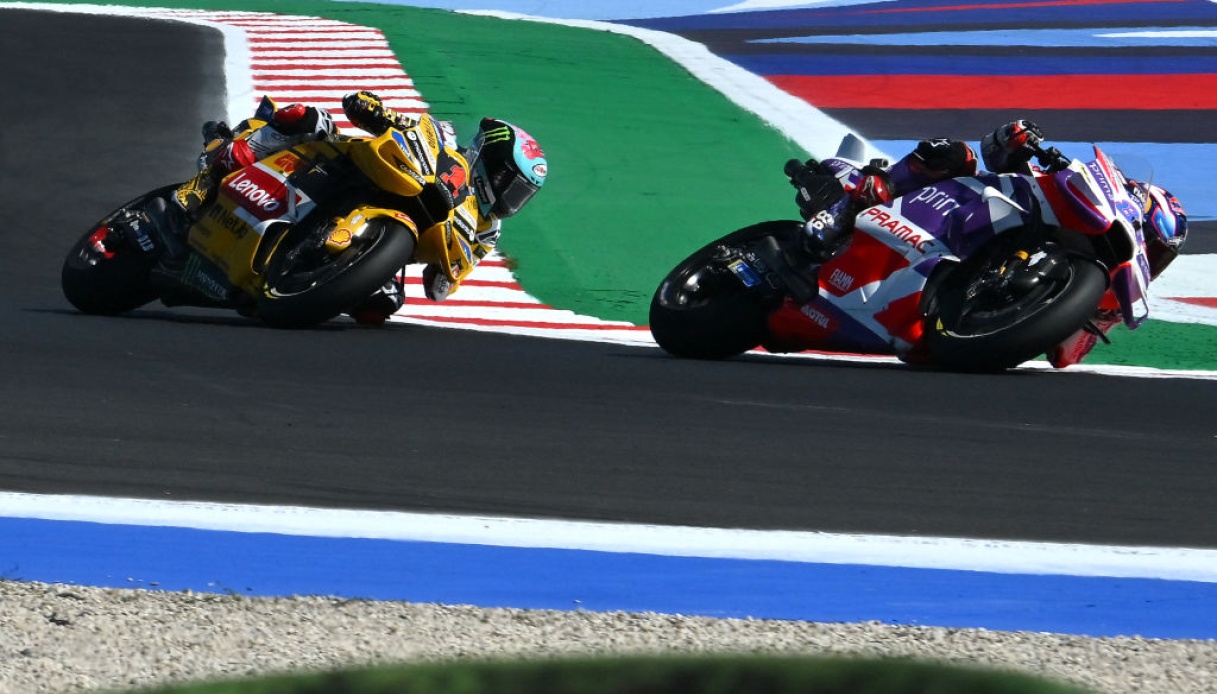 MotoGp, results
Jorge Martìn dominates the San Marino Grand Prix achieving absolute perfection. In the twelfth round of the MotoGP season, the Spanish rider of the Pramac team takes pole position in Misano Adriatico and leads a Ducati hat trick at the circuit dedicated to Marco Simoncelli. Marco Bezzecchi and Francesco Bagnaia complete the podium. The race unfolds at a frenetic pace, allowing Martìn to shorten the gap in the overall standings on Bagnaia. Despite lingering pain in his injured knee, Bagnaia maintains the lead with a 36-point advantage.
The situation in Misano remains unchanged between Saturday's Sprint Race and Sunday's race. The same protagonists dominate the San Marino Grand Prix, giving excitement and spectacle to the spectators. Jorge Martìn confirmed himself as a super rider, achieving a total victory in Misano with pole position, victory in the Sprint Race, and success in the Grand Prix. È it was an exceptional weekend for the Spanish rider of the Ducati Pramac team, who manages to recover some points in the overall standings over Francesco Bagnaia, before the next races in Asia for MotoGP.
Starting from the first box position on the grid, Martìn dictated the pace of the race, with aggressive riding, braking to the limit and a flawless performance that put him ahead of everyone for a victory that was never in question. Bagnaia had initially tried to attack, but had to give in due to knee pain, which caused him difficulties midway through the race and forced him to slow down, allowing Marco Bezzecchi to overtake him. Despite this drop in performance, Bagnaia è managed to maintain the crucial third position for the championship.
Marco Bezzecchi deserves special mention for his determination not to give up, despite the strenuous resistance of Martìn in front of him. Despite the pain in his injured hand he suffered in Barcelona, Bezzecchi tried to close the gap with the Spaniard, but in the end he è settled for second place on the podium, bringing joy to the VR46 team and the entire Ducati team, which achieved its fifth hat trick of the season.
Off the podium, behind Bagnaia, we find Dani Pedrosa, authentic revelation of the Misano weekend as a wild card. Surprisingly, Marc Marquez, against all his predictions, closes in seventh place ahead of Raul Fernandez, Luca Marini and Johann Zarco.