Paralympic foosball, the Azzurri lay down the law in Germany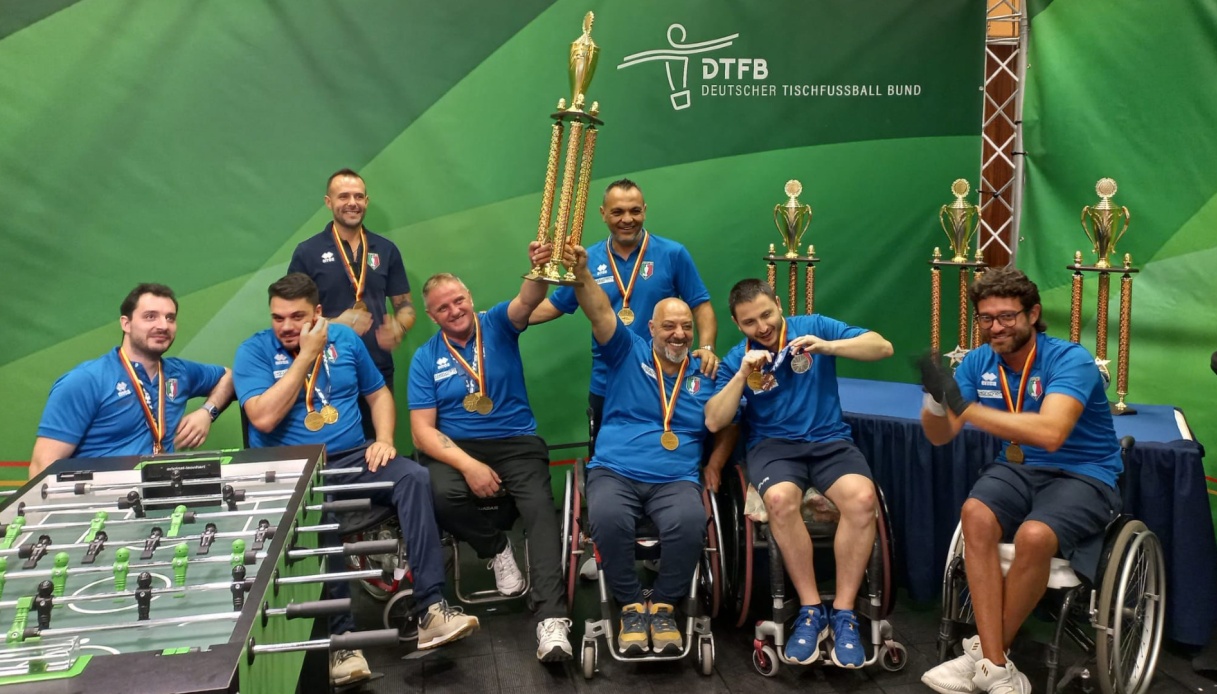 Blues dictate the law in Germany
Italian dominance at the Leonhart World Series, an international event organized by the ITSF (International Table Soccer Federation) and dedicated to Paralympic table soccer, held in Sankt Wendel, Germany. The World Series includes five annual events (in each of the countries of the five certified table soccer table builders), and the German leg saw the participation of four nations: Italy, France, Germany and Belgium with eight players (plus three reserves) from each country.
The specialties of the challenges were: singles, doubles and Championship by Nation. The Italian expedition è succeeded in the en plein, winning gold in all three competitions, also coming to occupy the entire podium among the singles. Winning the most coveted medal was Corrado Montecaggi, who beat compatriot Daniele Riga in the final, while third place went to Francesco Perin. A trip to remember for Montecaggi, who together with Luigi Iannone also triumphed in the doubles. Bronze in the same specialità for the duo composed of Perin and Daniele Riga. The protagonists of the two specialties; were also part of the selection that triumphed among the Nations. Also completing the winning squad were Francesco Bonanno and Paolo De Florio, led by coach Michele Nasti and accompanied by trainer Mirko Ferri and team manager Luca Bruno Malaspina.
"I think it was our best performance ever in this event – commented Francesco Bonanno, president of the Italian Paralympic Football Federation Balilla, who on this occasion also dressed the role of player – we are overjoyed to have achieved such an important result that on the eve of the event I did not think was possible. Three victories in the three specialtiesà and the other podiums confirm the skill and preparation of our athletes. We did some incredible things. Congratulations to all"
The Italian national team, having returned from its trip to Germany where it racked up a full complement of medals, will return to meet again at the Jesolo gathering scheduled from Wednesday, September 13 to Friday, September 15 for a period of technical preparation aimed at participation in the international 3 Nations tournament, the latter organized by the FPICB in collaboration with the International Table Soccer Federation. The tournament will be played again at the Marzotto Village in the Veneto municipality on Sept. 15 and 16 between the national Paralympic teams of Italy, Germany and Switzerland. At the end of the international event, on Sept. 16 and 17, also in Jesolo, the third edition of the Italian Championship a teams will be held.