Canadian GP qualifying: Max Verstappen dominates in the rain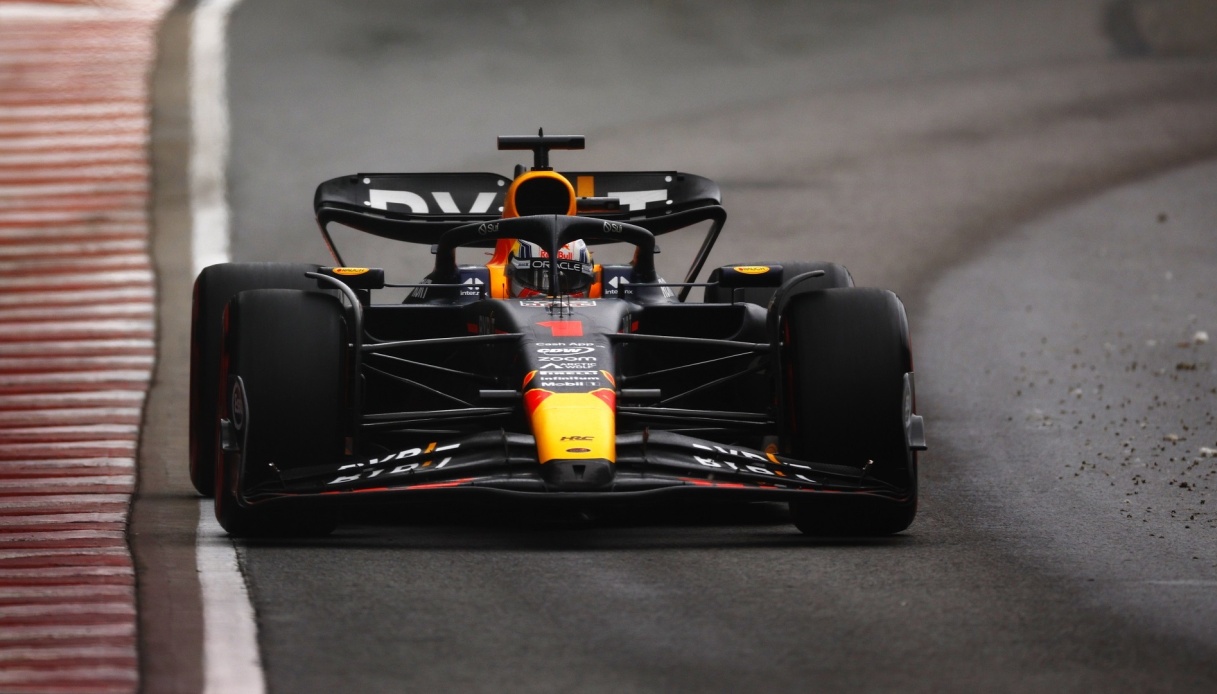 Canadian GP qualifying: Max Verstappen dominates in the rain
Exactly like last year, qualifying for the Canadian Grand Prix at the Montreal circuit took place in the wet and in the rain, but it was still him, Max Verstappen, who took pole position. The Red Bull world champion was 1″244 ahead of Haas' German Nico Hulkenberg, the big surprise of the day, and 1″428 ahead of Fernando Alonso in the Aston Martin. Eighth and 11th were the Ferraris of Carlos Sainz and Charles Leclerc, once again furious with the team's strategy.
As is now the practice in this Formula 1, after a few minutes from the start of Q1 the red flag is waved despite the fact that it is not raining and the track, certainly wet, is drying, because Zhou's Alfa-Sauber has stopped along the track but then the Chinese driver manages to get it going again. Best time for Verstappen ahead of Alonso, Hamilton, Russell and Leclerc, 11th Sainz, eliminated Yuki Tsunoda, Pierre Gasly, Nyck De Vries, Logan Sargeant and Zhou himself.
About halfway through Q2 the rain returns and the strategy penalizes Charles Leclerc, who wanted to mount the soft dry tyres when it was still not raining but the team told him to do the fastest lap with the intermediates, with the result that the Monegasque finds himself eleventh and thus eliminated from the decisive Q3. Perez was also very bad with the second Red Bull, 12th, followed by Lance Stroll, Kevin Magnussen and Valtteri Bottas.
The rain steadily increases in intensity in Q3 but Verstappen finds the right moment to take his fifth pole position of the season and the 25th in his career, while Hulkenberg with his Haas will start on the front row for the third time in his career seven years after the last one and almost 13 since the pole position he won in Brazil in 2013.
Third is Alonso, fourth and fifth are the Mercedes of Lewis Hamilton and George Russell. Eighth is Sainz who, however, is under investigation for obstructing Gasly's Alpine and should be penalized. Q3 was also interrupted by the red flag for a Piastri spin and then resumed when, however, the times could no longer be improved. For tomorrow's race the weather is given as improving. Here are the full qualifying results.
1. Max Verstappen RED BULL-HONDA RBPT 1'25″858
2. Nico Hulkenberg HAAS-FERRARI 1'27″102
3. Fernando Alonso ASTON MARTIN-MERCEDES 1'27″286
4. Lewis Hamilton MERCEDES 1'27″627
5. George Russell MERCEDES 1'27″893
6. Esteban Ocon ALPINE-RENAULT 1'27″945
7. Lando Norris MCLAREN-MERCEDES 1'28″046
8. Carlos Sainz FERRARI 1'29″294
9. Oscar Piastri MCLAREN-MERCEDES 1'31″349
10. Alexander Albon WILLIAMS-MERCEDES 1'18″725 (Q2)
11. Charles Leclerc FERRARI 1'20″615 (Q2)
12. Sergio Perez RED BULL-HONDA RBPT 1'20″959 (Q2)
13. Lance Stroll ASTON MARTIN-MERCEDES 1'21″484 (Q2)
14. Kevin Magnussen HAAS-FERRARI 1'21″678 (Q2)
15. Valtteri Bottas ALFA ROMEO-FERRARI 1'21″821 (Q2)
16. Yuki Tsunoda ALPHATAURI-HONDA RBPT 1'22″746 (Q1)
17. Pierre Gasly ALPINE-RENAULT 1'22″886 (Q1)
18. Nyck De Vries ALPHATAURI-HONDA RBPT 1'23″137 (Q1)
19. Logan Sargeant WILLIAMS-MERCEDES 1'23″337 (Q1)
20. Zhou Guanyu ALFA ROMEO-FERRARI 1'23″342 (Q1)