World Championships, Leonardo Fabbri silver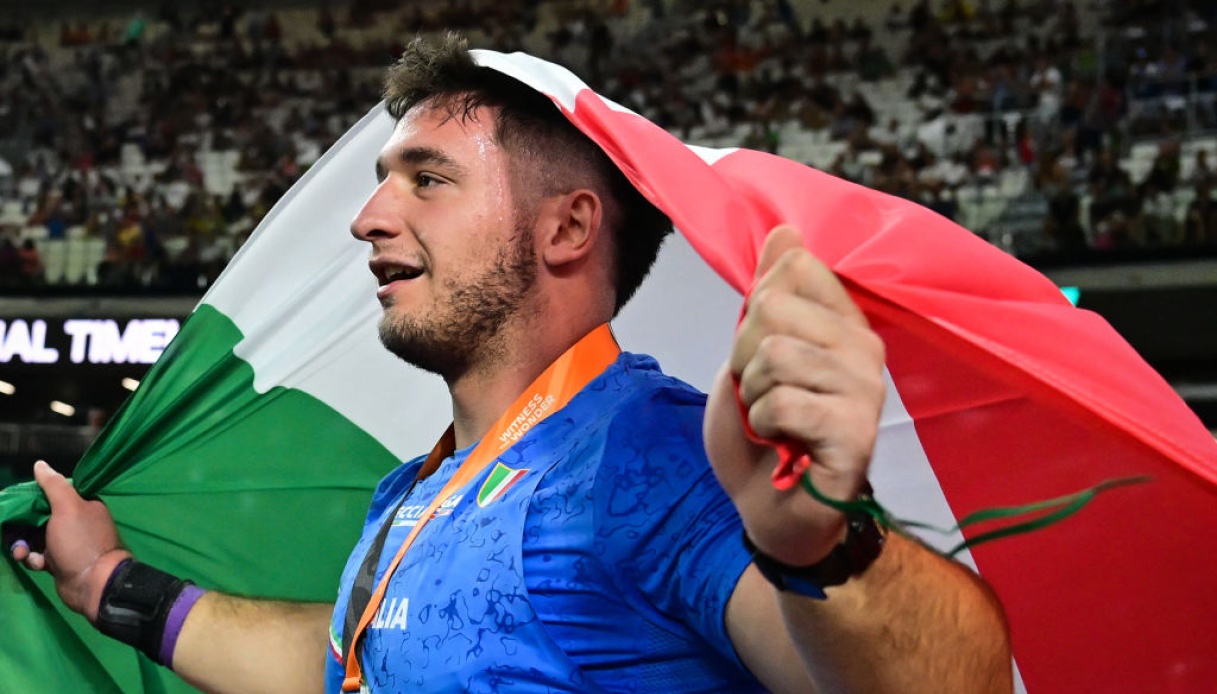 The words of Leonardo Fabbri
Immediately a resounding Italian medal on the first day of the World Championships in Budapest. It is Leonardo Fabbri's wonderful silver in the shot put with a fantastic throw of 22.34. Extraordinary feat for the 26-year-old Florentine, the second Italian ever and fifth European in history, beaten only by U.S. world record holder Ryan Crouser who in the last round with 23.51 comes within a whisker of his record of 23.56 set at the end of May. On the third step was two-time world champion Joe Kovacs (USA), bronze medalist with 22.12, while New Zealand's Tom Walsh also went over twenty-two meters, but remained off the podium with 22.05. In the morning's qualification the Air Force holder had gone ahead with 20.74 as the last of the promoted, with the twelfth measure, but in the final he exalts himself with an advance of 35 centimeters after three years. It was a magical evening for the Tuscan colossus, who after a couple of difficult seasons had returned to prominence this year with success at the Golden Gala in Florence and a series of competitions above 21.70 showing continuity of performance. The exploit on the third attempt of a memorable final, then he also came close to twenty-three meters in a subsequent throw but left the platform and was nil. Huge joy for the Italian: a Florentine is again silver at the World Championships in the weight, 36 years after Alessandro Andrei in Rome '87.
"I dreamed of it for a lifetime," Fabbri says, "then many times I woke up, but now that day has come. I am so happy, I dedicate it to my coach Paolo Dal Soglio who has always been close to me even in the less easy moments. I've never been so good, I'm sorry I made only one throw at 22 meters, but I think I'm worth even higher measures and today I proved it." Eleventh was the other Italian Zane Weir with 19.99.
In the 100 meters Olympic champion Marcell Jacobs, third in his battery in 10.15 (-0.4), goes to the semifinals while Samuele Ceccarelli, 10.26 (-0.6), is eliminated. In the finals in the triple jump Emmanuel Ihemeje who jumped 16.91 (+0.3), mocked instead Tobia Bocchi, first of the excluded with 16.66 (-0.2). Promoted to the semifinals in the 1500 meters Pietro Arese (3:34.48), out Ossama Meslek (3:35.12) and Joao Bussotti (3:48.55). On Sunday, on the second day of the World Championships, 20 Azzurri competed: at 7:15 a.m. the 20-kilometer march with Antonella Palmisano, Valentina Trapletti and Eleonora Giorgi, in the afternoon the finals of Larissa Iapichino in the long run, Yeman Crippa in the 10,000 meters and the double round with semifinals and eventual finals of the 100 meters with Marcell Jacobs.