Serbia first semifinalist, Lithuania knocked out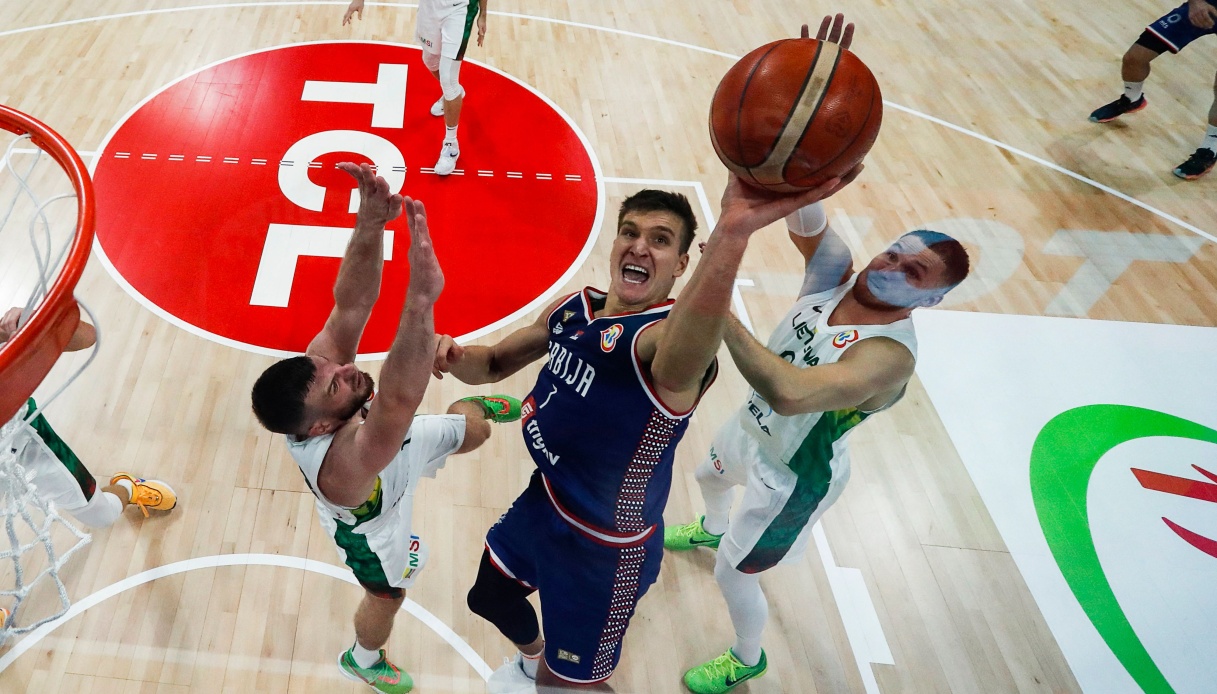 Serbia-Lithuania 87-68
The first quarterfinal of the Basketball World Cup has just concluded, with Valanciunas' Lithuania facing Milutinov's Serbia in the Mall of Asia Arena in Manila. This match represents a European classic, with the two teams having already faced each other four times in the Eurobasket, while the only previous one at the Worlds was back in 2010, when Lithuania came out victorious. However, the situation today was completely different, with new players on the court.
The first quarter saw Lithuania pick up where it left off against the United States, with shooting percentages from beyond the'arc that forced Serbia to concede from the start. Both teams kept very high tempo, with attacks dominating over defenses. Lithuania è managed to pull away thanks to a good three-point shooting percentage, but a 5-0 run brought the Serbs back to a tie at 20-20. Despite a series of untapped stolen balls by Serbia, Lithuania è managed to stay ahead and end the first quarter on a score of 25-24, despite Bogdan Bogdanovic's 8 points.
In the second quarter, Serbia è managed to take a 6-0 lead for the first time. However, a technical foul for simulation by Guduric stopped their momentum. Serbia improved its defense, while Lithuania started to foul, ending up in the foul bonus in just three minutes. Lithuania relied on Sedekerskis to stay in the game, but Bogdanovic scored another 10 points in the quarter, bringing the Serbian lead to +7. Once again, è it was Bogdanovic who scored a triple, bringing the lead to +8 and putting Lithuania, which registered 0/7 from three-point range in this quarter, in trouble. With another triple at the last second, Bogdanovic raised his personal score to 18 points and the overall score to 49-38 in favor of Serbia.
Lithuania started the third quarter by scoring immediately from three-point range in hopes of reopening the game, but once again è it was Bogdanovic who took over Serbia and extended the lead. Nikola Jovic scored a dunk to reach double digits, followed by Stefan Jovic's triple that brought the lead to +14 midway through the fourth. Stefan Jovic dominated on the court, helping Serbia pull away to a 73-55 lead at the final stop.
At the beginning of the last quarter, two free throws by Avramovic brought the Serbian lead to +20, while Lithuania continued to struggle against the basket, failing to score for more than 20 minutes, especially from three-point range. Despite a few trivial missed passes by Serbia, Lithuania failed to take advantage of the opportunity, leaving the Serbian lead above 20 points. The second half of the fourth è was simply a matter of statistics and Serbia won the game 87-68, thus earning first place in the semifinals, with Bogdanovic scoring 21 points, Petrusev 17 and Stefan Jovic 11.