Italvolley, Olympics blurred: Brazil goes to Paris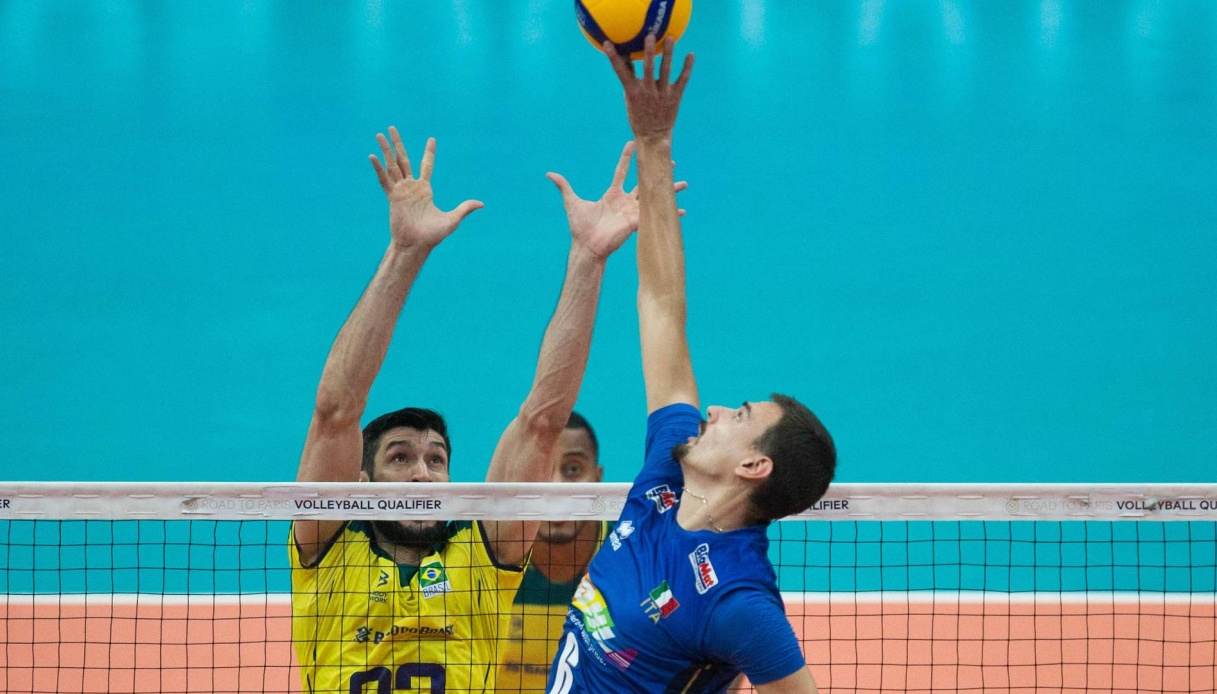 Brazil-Italy 3-2 (25-23, 23-25, 15-25, 25-17, 15-11)
The dream of securing a direct pass to the Paris 2024 Olympic Games for men's Italvolley shattered over Brazil. In the decisive challenge, played at the Maracanazinho in Rio, the Azzurri, in fact, surrendered to the hosts in the fifth set with the score of 25-23, 23-25, 15-25, 25-17, 15-11 in favor of the greenoro, who, together with Germany, have achieved qualification for the next Olympics.
First set won by the Brazilians more by the demerits of Giannelli and his teammates than by Greenoro merits to tell the truth; many, too many, in fact, the service errors (9 in the partial) of the Azzurri that in doing so facilitated the task of the hosts who in the arc of the partial substantially managed a lead varying between three and five lengths until 25-23 worth the 1-0.
In the second the Azzurri still approached well managing to accumulate even a +5 (12-17), a lead that però with the passing of the minutes è was progressively squandered until the parity; on 14-14; from that moment the inertia of the match è seemed to have changed with the hosts taking the lead. Giannelli and his teammates forò did not give up and just thanks to a magic of the captain rose to set point, materializing then on 25-23 thus bringing, deservedly, the situation in parity;.
De Giorgi in the third then called some' of his guys from the bench as Scanferla, Bovolenta and Rinaldi receiving good responses, thus confirming the previous positive trend. With a lead of 4 lengths (17-13) an excellent turn at the service of Michieletto (3 aces and many times put in trouble the greenoro reception) bent the legs of the hosts who found themselves on -10 (23-13) until 25-10 that decreed the blue advantage.
Fourth set started with the hosts more fierce; the Azzurri despite some difficulties seemed to be able to withstand the impact (7-12), but then as the minutes passed the gap è increased to +9 (18-9). De Giorgi continued to shuffle the cards drawing on all available resources, but unfortunately it è was not enough to curb the hosts who, also aided by an obvious decline of the Azzurri tied the situation at 2-2 thanks to the 25-17 final.
In the tie-break still great balance (10-10), but just in the final the hosts placed the break that later proved decisive for the final victory and for their qualification to the Games (11-15).
As with the women's national team, the road to Paris will now depend on the position in the post-intercontinental phase ranking of the VNL 2024. The Azzurri are currently in third place, and will have to try to maintain it to participate in the Paris Olympics.