Euro 2025 qualifiers, Italy engaged with Greece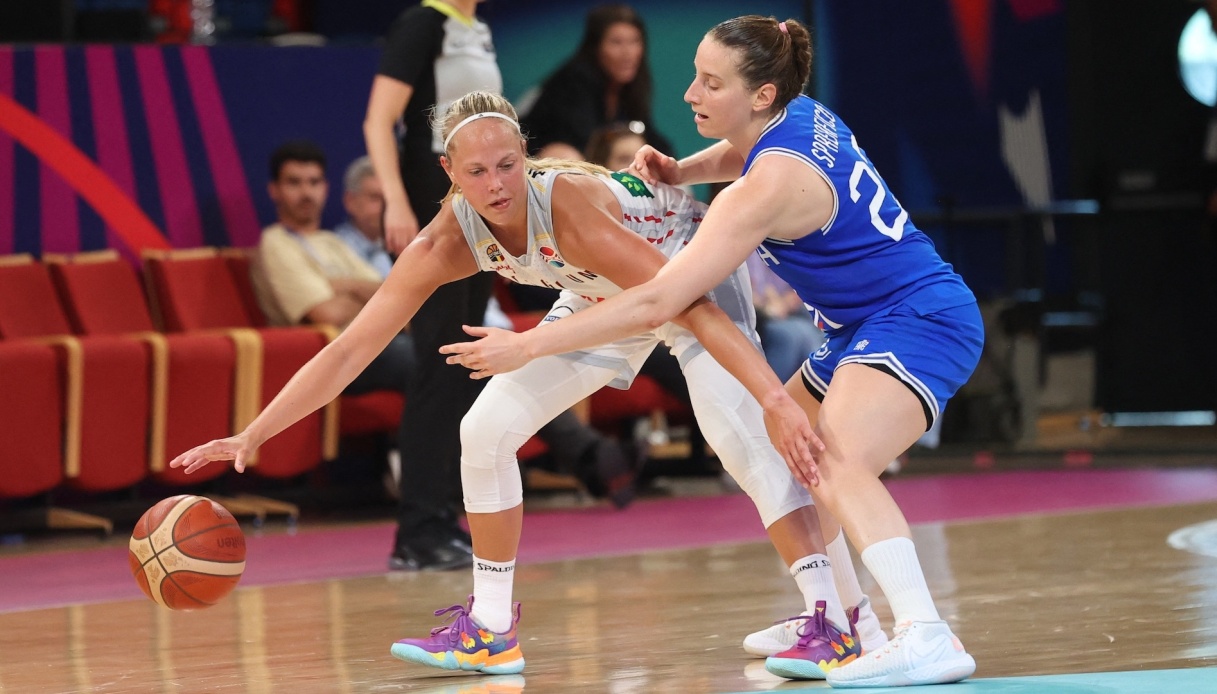 Euro 2025 qualifiers, Italy engaged with Greece
143 days after the bitter denouement of the 2023 European Championship with the loss against Montenegro, tomorrow night the National Women's team returns to the court in Vigevano for the first step of the Women's EuroBasket 2025 Qualifiers. Italy's already qualified for the European Championship as the host country of one of the groups but tomorrow's game with Greece certainly constitutes an important commitment, and not only thinking about the FIBA Ranking.
The two-ball at PalaElachem è set at 8 p.m., live on RaiSport. Three days later, on Sunday, November 12, the trip to the home of Germany, in Hamburg (17:30, live exclusive on the Twitch channel @italbasket).
Soì coach Capobianco on the eve of the game. "Finally we go on the court, è the first outing of this new course and we want to honor it with a performance to the maximum of our possibilitiesà. Greece è always an opponent that deserves the utmost respect: they have several very interesting and on the court they always bring a special energy, a recognizable pride on every occasion. We have to take the field with the right face, light but not superficial, aware that with three days of training we will not be able to be perfect and therefore error management will be fundamental. We have experienced some physical problems during the gathering, I asked the players for extra effort in terms of availability and the response of all è was what I expected".
The new captain of the National Team è Laura Spreafico, 41 appearances and 174 points in the Maglia Azzurra. Her National Team debut è took place on May 26, 2012 in Pomezia against the Netherlands. The technical staff coordinated by Coach Capobianco will announce the 12 Azzurre on the roster against Greece in the late afternoon.
There are 14 previous meetings with the Hellenic team and 10 have smiled on the Azzurri, who just last June 4 in Athens inflicted on Greece the worst defeat in the history of direct confrontations (40-93, +53). Coach Petros Prekas, assistant to Giorgios Dikaioulakos in Schio, will miss; Maria Fasoula, out for the season due to a knee injury.
It' s still possible to buy tickets for the Vigevano game at the Vivaticket circuit. Promotions are available for FIP members, by contacting your relevant Regional Committee.
In addition to Italy, the other co-organizers of Women's EuroBasket are Czech Republic, Germany and Greece: each country will host a round of the first phase, starting with the Quarterfinals will be played only in Athens. From the 2025 edition, there will be no more play-offs between the second- and third-place finishers in the four groups. The top two from each group will advance directly to the Quarterfinals.
Italy
#0 Jasmine Keys (1997, 1.87, A, Famila Schio)
#1 Francesca Pasa (2000, 1.70, P, Virtus Segafredo Bologna)
#2 Matilde Villa (2004, 1.70, P, Umana Venezia)
#3 Gina Conti (1999, 1.70, P, Geas Sesto San Giovanni)
#8 Costanza Verona (1999, 1.70, P, Famila Schio)
#9 Cecilia Zandalasini (1996, 1.86, A, Virtus Segafredo Bologna)
#11 Francesca Pan (1997, 1.85, G, Umana Venezia)
#13 Lorela Cubaj (1999, 1.92, C, Umana Reyer Venezia)
#14 Sara Madera (2000, 1.85, A, Gernika Bizkaia – Spain)
#18 Caterina Gilli (2002, 1.83, A, Oxygen Roma)
#19 Martina Fassina (1999, 1.85, G, Umana Venezia)
#23 Laura Spreafico (1991, 1.83, G-A, Passalacqua Ragusa)
#24 Ilaria Panzera (2002, 1.80, G, Geas Sesto San Giovanni)
#52 Sierra Campisano (1997, 1.89, C, Sedis Basquet – Spain)
#77 Martina Kacerik (1996, 1.83, P, Magnolia Campobasso)
Coach: Andrea Capobianco
Greece
#4 Anna Niki Stamolamprou (1995, 1.70, P, Panathinaikos)
#8 Pinelopi Pavlopoulou (1996, 1.72, P, Panathinaikos)
#10 Elena Tsineke (1999, 1.74, G, Gorzow – Poland)
#11 Eva Koumantsiodou (2004, 1.90, C, Paok)
#12 Marilena Gerostergiou (1998, 1.87, C, Iraklis)
#13 Vassiliki Louka (1996, 1.93, C, Brixia Brescia)
#15 Artemis Spanou (1993, 1.86, A-C, Bourges – France)
#21 Eleanna Hristinaki (1996, 1.84, A, Olympiacos)
#24 Vasiliki Cholopoulou (2007, 1.77, P, Panathiiltikos)
#25 Antigoni Chairistanidou (1990, 1.85, A, Panathinaikos)
#44 Renia Karlafti (1998, 1.80, G, Olimpiacos)
#55 Evina Stamati (1984, 1.81, G, Proteas Voulas)
Coach: Petros Prekas
Referees: Ozlem Yalman (Turkey), Laure Coanus (France), Blaz Zupancic (Slovenia)
The full schedule
November 9, 2023
Italy-Greece (Vigevano, 8 p.m., live coverage by RaiSport)
Czech Republic-Germany
November 12, 2023
Germany-Italy (Hamburg, 5:30 p.m., live Twitch @italbasket)
Greece-Czech Republic
November 7, 2024
Italy-Czech Republic
Germany-Greece
November 10, 2024
Greece-Italy
Germany-Czech Republic
February 6, 2025
Italy-Germany
Czech Republic-Greece
February 9, 2025
Czech Republic-Italy
Greece-Germany
There are 36 teams to compete in the FIBA Women's EuroBasket 2025 Qualifiers: the National Teams of the 4 co-organizing countries are qualified by right and have been placed in Group I, the remaining 32 have been drawn in 8 groups of 4 teams to compete for the remaining 12 places.
Fip Press Release