Van der Poel rainbowed, Bettiol to applause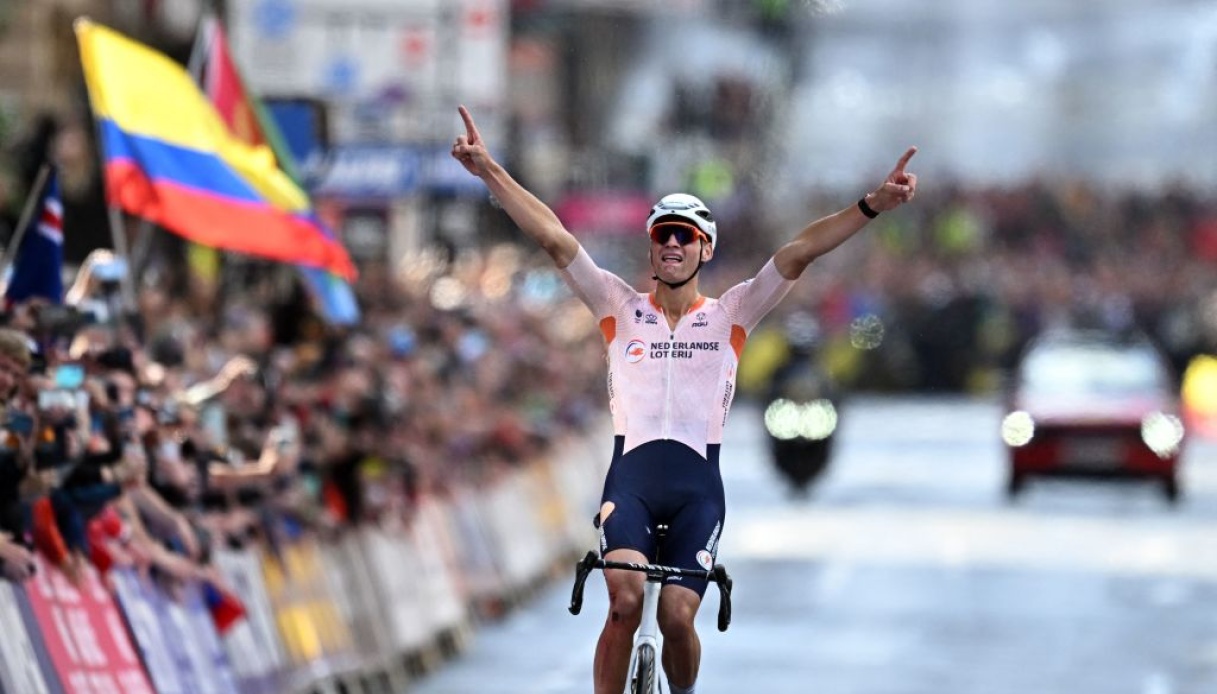 World Cycling Championships, results
At the Glasgow 2023 World Championships, it is Mathieu Van der Poel who triumphs, winning a gold medal that the Netherlands has been missing since 1985. Silver goes around Van Aert's neck, while it was bronze for Pogacar. In the men's road road race, which was interrupted 191 km from the finish line due to an activist protest, Italy dreamed for about 40 km thanks to Alberto Bettiol, who rode solo after Matteo Trentin crashed. The Tuscan held on as long as his legs held out, then paid for the effort of the feat with 21 km to go. That's when Van der Poel attacked, giving the decisive breakaway and taking the lead, then maintaining and implementing the advantage despite a fall at -10 km that threatened to compromise the finish of his race. Nothing to do, then, for Italy with Bettiol eventually finishing 10th.
As for the Marathon, after a good start for our Italians with 4 guys out of 22 athletes composing the leading group, the more forced pace made selection and the situation saw Fabian Rabensteiner remain in the chasing pack to the first escapees for most of the race, fighting for a Top-5 until the last intermediate time placed at 20km to go. Suffering the finish, Fabian (who celebrates 33 years today) had to settle for eighth place. Also entering the Top-10 is Italian specialty champion Diego Rosa at his first world championships, after a great comeback in the second part of the race thanks to the hard climb placed in the last 20km, suited to his climber characteristics.
Among women, the course got even tougher due to the rain that hit in the second part of the race. Selection took place from the very first kilometers, creating more marked gaps than the men. Sandra Mairhofer, who always remained steady around the top-10, crossed the finish line in 9th position.
CT Mirko Celestino commented, "In the men's race, we were starting for a medal with Fabian given his excellent condition and what he showed in the last major engagements. He was fine in the race, but the others were going stronger: he gave his best and there is nothing to regret. Diego paid for the first part of the course, but with the recovery he made in the final he showed great condition, with the knowledge that he needs to work more on technique. Dario Cherchi did a very good performance for his young age, and Samparisi also held on until the 40km to the finish to try to give help to Fabian if needed: both showed that they deserve a call to the national team. On the other hand, it was a bad day for Yuri Ragnoli, far from the first ones, but also for Samuele Porro and Claudia Peretti who suffered a lot of fatigue since the first kilometers and had to abandon the race."