Kieran Crowley announces the 15 for Romania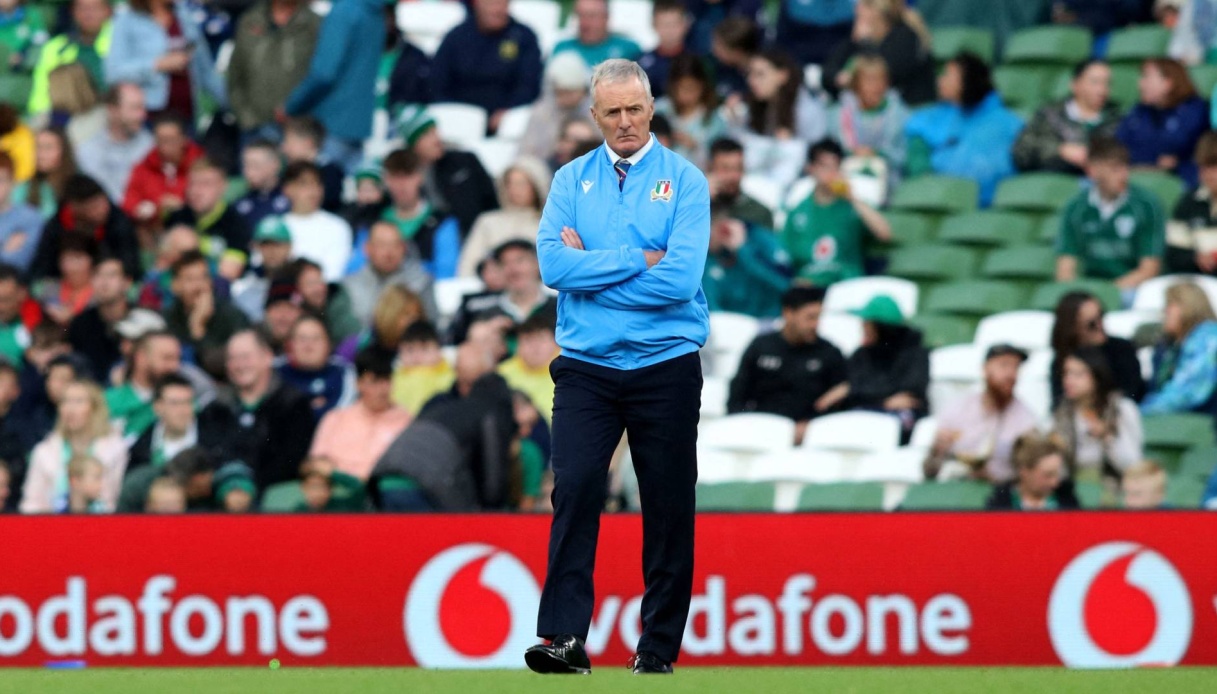 Kieran Crowley announces the 15 for Romania
Kieran Crowley, Technical Commissioner of the Italian Men's National Rugby Team, has made official the lineup that will face Romania on Saturday, August 19 at 6:30 p.m. at Riviera delle Palme Stadium in San Benedetto del Tronto, in the first of two home Test Matches valid for the Vittoria Assicurazioni Summer Nations Series in preparation for the World Cup.
It will be match number 44 between the two teams, which will compete again just over a year after the last previous one won 45-13 by Italy in Bucharest. In the extended triangle – along with Odogwu and Ioane – Ange Capuozzo, absent from the match against Ireland in the last Guinness Six Nations, returns to the Azzurri jersey. Pair of centers formed by Brex and Morisi, while for the first time in the history of the national team, from the first minute, the keys of the median will be entrusted to a pair of brothers with Paolo and Alessandro Garbisi who will return to play together just after the few minutes in the resumption of the match played in Bucharest on July 1, 2022 against Romania.
In the third line, captain Lamaro returns from the first minute along with Halafihi and Negri. Confirmation for Lamb in the second line who will take the field with Niccolò Cannone. Front line formed by Ferrari, Nicotera and Nemer with the latter returning to play an international match after a disqualification that kept him off the field since December 2022.
Ready to take over from the bench are Faiva, Zani, Ceccarelli, Ruzza, L. Cannone, Fusco, Allan and Pani.
"A new phase of preparation toward the World Cup begins for us. The one against Romania is the first step of 2 games – also including Japan – that represent a crucial moment of the season for us. Romania is a physical team. We have prepared the match well and aim to win our first summer success in front of our fans," said Kieran Crowley.
England's Luke Pearce will referee the match.
This is the lineup that will take the field
15 Ange CAPUOZZO (Stade Toulousain, 10 caps)
14 Paul ODOGWU (Benetton Rugby, 1 cap)
13 Juan Ignacio BREX (Benetton Rugby, 24 caps)
12 Luca MORISI (released, 45 caps)
11Montanna IOANE (Lyon, 19 caps)
10 Paul GARBISI (Montpellier, 25 caps)
9 Alessandro GARBISI (Benetton Rugby, 5 caps)
8 Toa HALAFIHI (Benetton Rugby, 10 caps)
7 Michele LAMARO (Benetton Rugby, 27 caps) – captain
6 Sebastian NEGRI (Benetton Rugby, 47 caps)
5 Dino LAMB (Harlequins, 1 cap)
4 Niccolò CANNONE (Benetton Rugby, 31 caps)
3 Simone FERRARI (Benetton Rugby, 45 caps)
2 Giacomo NICOTERA (Benetton Rugby, 13 caps)
1 Ivan NEMER (Benetton Rugby, 11 caps)
Available
16 Epalahame FAIVA (released, 6 caps)
17 Federico ZANI (Benetton Rugby, 22 caps)
18 Pietro CECCARELLI (Perpignan, 27 caps)
19 Federico RUZZA (Benetton Rugby, 43 caps)
20 Lorenzo CANNONE (Benetton Rugby, 10 caps)
21 Alessandro FUSCO (Zebre Parma, 14 caps)
22 Tommaso ALLAN (Perpignan, 73 caps)
23 Lorenzo PANI (Zebre Parma, 2 caps)
This is Italy's summer Test Match schedule.
29.07 Scotland v Italy, Edinburgh – 25-13
05.08 Ireland v Italy, Dublin – 33-17
19.08 Italy v Romania, San Benedetto del Tronto 6:30 p.m.
26.08 Italy v Japan, Treviso 6:30 p.m.
This is the schedule of Italy's matches in the RWC 2023 round:
09.09 Italy v Namibia, Saint-Etienne 1 p.m.
20.09 Italy v Uruguay, Nice 5:45 p.m.
29.09 New Zealand v Italy, Lyon 9 p.m.
06.10 France v Italy, Lyon 9 pm