Frisbee Italy still on the podium in Europe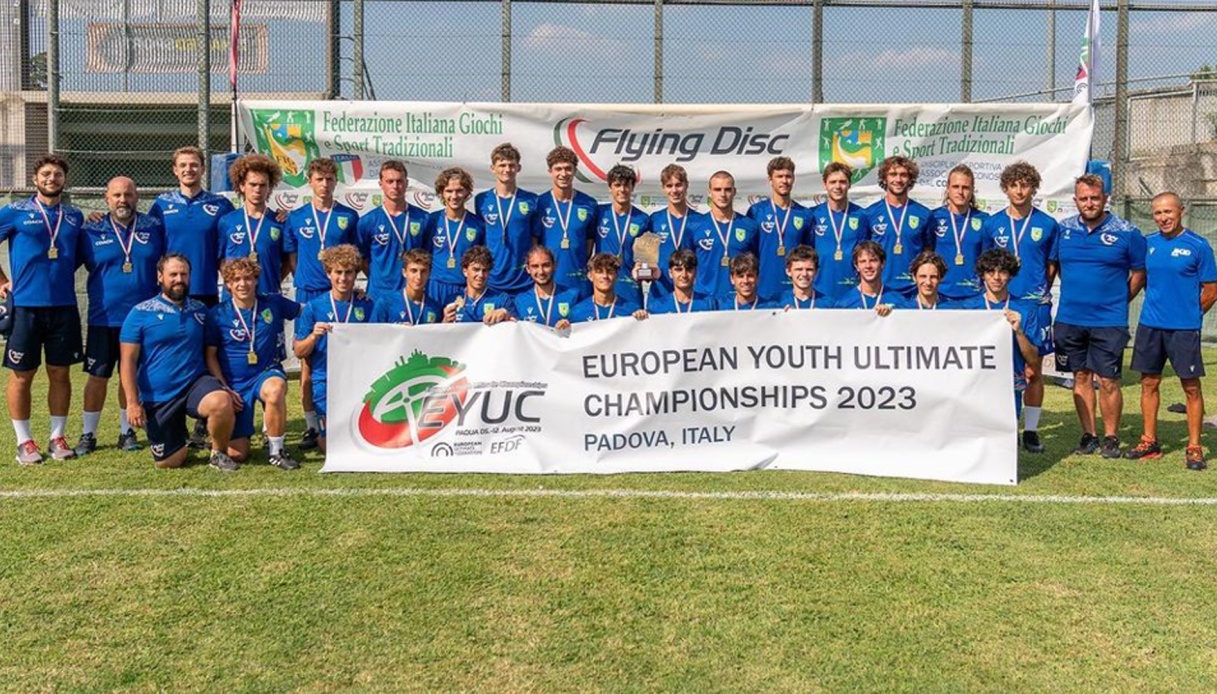 Frisbee Italy still on the podium in Europe
A gold, a silver and a fourth place. This is the "spoils" won by the Italian Ultimate Frisbee team at the EYUC 2023, the European Under-20 Championships held for the first time in Italy, in Padua. Also winning were the sporting values of a specialty part of FIGeST, Italian Federation of Traditional Games and Sports and Associated Sporting Discipline recognized by CONI
More than 500 athletes accompanied by their respective staffs, 26 teams divided into divisions (Open, Women and Mixed), 14 nations represented, for a total of 120 matches. These are the numbers that characterized the EYUC 2023 edition, the European Young Ultimate Championships, European Junior Under 20 Ultimate Frisbee Championships.
The eagerly awaited international event, organized for the first time in Italy, began with the parade of the participating national teams from Palazzo Moroni to the Silvio Appiani Stadium (after crossing the iconic Prato della Valle, among the largest and most beautiful squares in Europe) where the opening match took place, which saw our Italian U20 Women prevail over the Czech Republic 14-10.
In the following days all competitions were held at the nearby Euganeo Sports Center in Bresseo di Teolo (PD) while the finals with the award ceremony again at the Appiani Stadium in Padua.
The finals featured the U20 Open Division in a big way. After 9 consecutive victories, our representative team also beat the French peers 15-9 in the finals, thus winning the highest place on the podium and the gold medal. Silver medal, on the other hand, for the U20 Women Division, narrowly defeated (13-9) after a great match by the cousins from beyond the Alps, to whom 1st place went. "Only" a 4th place for the Mixed Division U20, defeated 15-9 in the final match played again against France.
Amid the satisfactions and disappointments of the participating teams, it was undoubtedly the values of sports that won at EYUC 2023 once again. By rule, in fact, Ultimate Frisbee, the most practiced Flying Disc discipline in the world recognized by the IOC and practiced in more than one hundred countries, as well as a specialty of FIGeST (Italian Federation of Traditional Games and Sports and Associated Sporting Discipline recognized by CONI), "is a self-arbitrated sport without physical contact. All players are responsible for conducting the game and following the rules. Ultimate is based on the Spirit of the Game which places the responsibility for 'fair play' (fairness) on each player."