Allianz presents "Dreaming of Paris 2024: 7 athletes, one goal"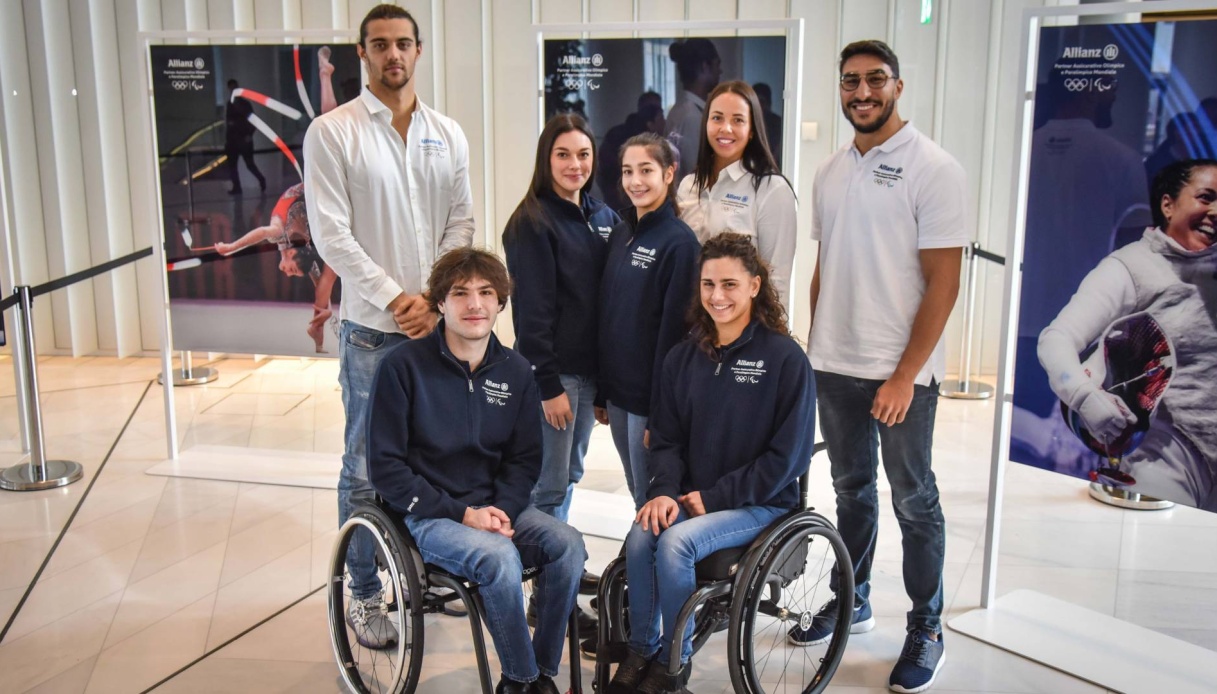 Allianz presents "Dreaming of Paris 2024: 7 athletes, one goal"
Allianz, Worldwide Insurance Partner of the Olympic and Paralympic Movements until 2028, presented in the morning with an event in the "Auditorium of the Allianz Tower in Milan the project "Sognando Parigi 2024: 7 atleti, un solo traguardo", in the presence of the seven athletes who will be the ambassadors of the Company in Italy until the Paris 2024 Olympic and Paralympic Games.
The new partnership strengthens those already existing internationally and in our country. In fact, the Allianz Group began its global partnership with the Olympic and Paralympic Movements in 2021 with an eight-year agreement until 2028, after having been a partner of the Paralympic Movement since 2006. In this international framework, in Italy Allianz already has to its credit important partnerships with Coni and with Comitato Italiano Paralimpico (Cip) alongside'Italia Team. Since 2020 it has been hosting the Milan Cortina 2026 Foundation in its headquarters in Torre Allianz in Milan and since 2022 è Top partner of Fiamme Oro, the athletes of the State Police Sports Group.
Today the presentation of the seven extraordinary athletes of the Polizia di Stato, young but already established champions of Italian sports, great athletes and blue parathletes, women and men protagonists on the international scene in the disciplines of swimming, artistic and rhythmic gymnastics, boxing and fencing chosen by Allianz to bring ever closer the Company's brand to sports talent and the upcoming Olympic and Paralympic Games in Paris 2024.
Giacomo Campora, Chief Executive Officer of Allianz S.p.A. commented: "Allianz è global insurance partner of the Olympic and Paralympic Movements and in Italy we are alongside Coni and Cip, as well as hosting in Allianz Tower the Milan Cortina 2026 Foundation. Since last year we have also partnered with the Fiamme Oro, extraordinary athletes among whom we have identified our new ambassadors: young champions who are already inspirational role models for many fans and many athletes of all ages, backgrounds and abilities. We will support their ambitions as they prepare to compete for the Paris 2024 Olympic and Paralympic Games".
Here are the seven champions, the new Allianz ambassadors, all athletes of the Golden Flames:
Thomas Ceccon, swimming star, class of 2001, already Olympic medalist at age 20, è the new face of Italian swimming, world champion in the 50m butterfly at the 2023 World Championships, silver and bronze medalist in the 4×100 freestyle and 4×100 mixed relays at the 2020 Tokyo Olympic Games. Pure talent, è already an'icon of the Italian sports lifestyle.
Antonio Fantin, born in 2001, è the demonstration of how you can overcome a difficult disease even starting the'sport activity and continuing it with great success. Paralympic champion in Tokyo 2020, as well as ten-time world champion and eight-time European champion. Champion in the pool as in life, è unstoppable.
Giulia Ghiretti, from a young blue promise, after an accident on the trampoline in 2010 è became a winning Paralympic swimmer, with 24 international medals between Paralympics, World and European Championships, medalist in Rio 2016 and silver in breaststroke at the 2020 Tokyo Paralympic Games. As a true "butterfly", with swimming she savors day by day the freedom she had in the air when she flew.
Aziz Abbes Mouhiidine, as young as he already is; an established promise of Italian boxing, class of 1998, vice-champion in the heavyweight category at the World Championships in Tashkent in 2023, also holds a continental gold. Raised in the myth of the holy monsters of international boxing, è the new good giant of Italian boxing.
Sofia Raffaeli, the first Italian in history to win an individual gold medal at the World Championships in rhythmic gymnastics and 2022 world all-around champion. At the recent Rhythmic Gymnastics World Championships in Valencia è she became World Vice-Champion, in addition to winning silver in the ball and hoop at the finals. At only 19 years old, Sofia has already rewritten history: no Italian gymnast before her had managed to win 5 out of 5 golds in a World Cup.
Giorgia Villa, gold medalist in beam at the 2023 World Artistic Gymnastics Championships in Baku as well as team bronze medal winner at the Stuttgart World Championships 2019 and team silver medal winner at the 2022 European Championships. Twenty years old, after missing participation in the 2020 Tokyo Olympic Games due to a sprained ankle, she is now aiming for her revenge in Paris 2024.
Alice Volpi, the absolute star at the 2023 Fencing World Championships in Milan, winner in women's foil and team bronze medal at the 2020 Tokyo Olympic Games, has won five world golds and four European titles in her career. Thirty-one years old, her favorite TV series è "The Game of Thrones": Paris is waiting for her.
These great athletes, already flags of blue sports, were chosen from among the athletes of the Fiamme Oro to create a balanced and well-matched team of ambassadors across different sports disciplines, ages, recognizability, and criteria of diversity and inclusion, as well as by affinity with some of the sports values in which Allianz recognizes itself, such as positivity, resilience, and the ability to go beyond obstacles. Their personal stories, their athletic feats, their palmarès, and their chances of success at the upcoming Olympic and Paralympic Games make these seven men and women extraordinary testimonials with which Allianz intends to assert its recognition in sports towards Paris 2024.
Alice, Antonio, Aziz Abbes, Giorgia, Giulia, Sofia and Thomas will be supported and joined by Allianz in the sporting and personal preparation of their journey to the highest sporting achievement next year that unites them and will keep Italian fans and supporters with bated breath in July August and September next year.
Theirs è a shared dream. They are united by sacrifice, determination, commitment, the drive to constantly improve, and the fatigue of relentless training. È this spirit that Allianz also shares with the main theme that è underlies its global positioning and its latest international institutional communication campaigns: "Get ready for the best – Ready for the best". The dream would be null without the necessary preparation, passion and stern dedication to'the goal, and Allianz will indeed follow their incredible journey to Paris during the coming months of hard training, amid moments of excitement and discouragement, faced with gladness, courage and transparency.
Allianz, through a multimedia communication campaign and an ad-hoc TV project, will doà even more to acquaint everyone with the personalities, stories and ambitions of these young talents and promising athletes on their "Road to Paris". In fact, the new partnership with Allianz will see the creation of a real editorial and communication plan: interviews and recordings in their training places that will be told in a docuseries entitled "Dreaming of Paris 2024: 7 athletes, one goal", broadcast by Rai in the first half of next year. In parallel, a social and digital campaign related to this initiative will be promoted.
Maurizio Devescovi, General Manager of Allianz S.p.A. said: "Thanks to a full sharing of the fundamental values of sport that unite us, we are thrilled to support these athletes and their dreams for 2024. The docuseries dedicated to them will tell the stories of strength, commitment and resilience of these great athletes, from which every sports fan, can be inspired to be more optimistic and confident about the future, understanding the'importance of preparing the best for life".
Through a project that intercepts Rai's multiplatform potentials, there are 7 episodes of 24' each of "Sognando Parigi 2024: 7 athletes, one goal" that will be broadcast as part of the publisher's Olympic offering. In fact, the series, directed by Katia Bernardi, is divided into 7 episodes in which the stories of the 7 athletes are interwoven, each of which "tells" in documentary style what happens to the protagonists, what are the key people who revolve around their sporting and non-sporting lives during the months leading up to their departure for Paris. Olympic and Paralympic values are universal values. Therefore, the series will revolve precisely around 7 main values that will be related to the athletes' stories: talent, responsibility, dynamism, commitment, inclusion, caring/sharing, and ambition. In each episode, one of the seven athletes will be followed a little more' in detail than the others.
In parallel, 28 1' clips will also be produced that will delve one protagonist at a time into the different stages of preparation toward the Olympics and Paralympics.
At the end of the journey, a 90' documentary will be the collection of the most beautiful and meaningful portraits of individual young athletes.
Narrative voice of all the stories in the editorial plan will beà Gianfelice Facchetti, author and actor of great sensitivityà narrative.
The project è has been realized in synergy with Dentsu Sports, the unit of the Dentsu Group dedicated to sports marketing that integrates creativity, media and CXM, as to the relationship with athletes, and with the support of production company YAM 112003 for the production of the docuseries, clips and documentary.